Add to Cart
Necchi Supernova Ultra + Ultra Mark 2 Sewing Machine Manual
Instant Download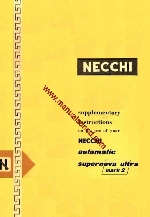 Price: $4.99
Necchi Supernova Ultra & Ultra Mark 2 Sewing Machine Manual Pdf.
Model: Supernova Ultra
Model: Ultra Mark 2
Here are just a few examples of what's included in this manual:
* Threading the machine.
* Winding the bobbin.
* Tension adjustment.
* Trouble Shooting.
* Using attachments.
* Cleaning and oiling your machine.
* Popular stitches including Zig Zag and drop
feed decorative stitches.
This is a Digital file in PDF format.
You will need Adobe Acrobat reader to view the
manual on your computer.
There will be no shipping costs, a download link will be emailed to you.
You will not get an actual hard printed copy.
If you have any questions, please feel free to email us.
Thank You
All sales on digital products are final.